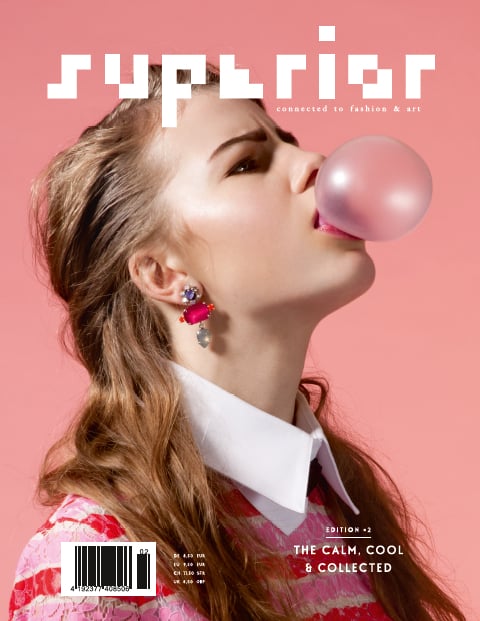 SUPERIOR EDITION #2 - The Calm, Cool & Collected
€

8.50
---
---
!!! In our digital SUPERIOR ONLINE Magazine (www.superior-mag.com/magazine_online/april-2013) you find a DISCOUNT CODE to SAVE 20% !!!
SUPERIOR EDITION #2 is the second print edition made by SUPERIOR Magazine
In nine exclusive editorials, photographers from Europe and the USA present spring/summer fashion in their personal style. Their interpretations range from mysterious to cold as ice to sweet as candy to just beautiful. Or they play pingpong with their photography, like the Italian-Serbian photographer- duo Federico Ferrari & Marija Radosavljevic. We also take you on a tour visiting the Fashion Weeks in New York, Berlin and Tokyo.
Since the borders between fashion, design and art are fluent, we have refined our visual approach. Sandy, our Illustrator, has created unique illustrations for a few selected brands and labels; and Jesse, our Art Director, has designed a new typeface exclusively for SUPERIOR EDITION #2. Furthermore our interview with the artist Osman Balkan grants space to explain why the absence of failure doesn't necessarily mean winning. And the statement by ARTISTS ANONYMOUS outlines what it takes to be an artist nowadays.
Connecting the best from the various media is one thing that has characterized our publications from the beginning. Hence the printed SUPERIOR EDITION #2 is complemented by digital content like videos, additional photo-series and text, which are conveniently linked to the respective print content via QR-Codes. With this combination you get the best from both worlds in one magazine, the sophisticated design of an exclusive print magazine and responsive digital content.
SUPERIOR is an international Magazine with the focus on young vanguard fashion-, beauty- and art- photography & film.
www.superior-mag.com
SUPERIOR Magazine stands for high-quality photography & film connected to fashion, offering its readers exciting, fresh photo editorials & films as well as background interviews and reports from the fields of fashion, beauty, art and design. Combining the talents of renowned photographers & filmmakers and artists with outstanding newcomers, each edition of SUPERIOR Magazine is a fund of new insights and inspiration. The magazine's sophisticated design provides an artistic showcase for all kinds of avant-garde visual expression and imagery.
SUPERIOR Magazine is published across all media channels (print, online, web, social media) with a strong link between the channels.